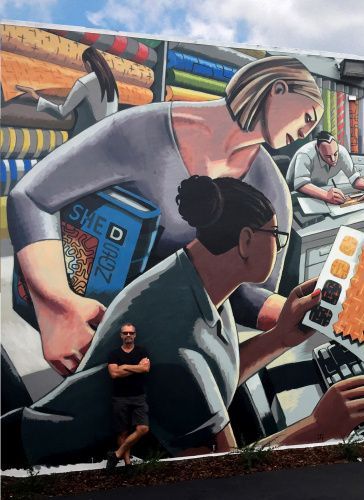 About
Statement - Andrew Reid SHEd:
With a career in which I've created monumental art on and in public spaces throughout the USA I am experienced at envisioning artworks that are the right fit for their environment. My work can be found in places people transit or gather - courthouses, police and fire stations, subways, libraries, parks, community buildings. Extensive research during the design process insures I have a thorough understanding of the objective and goal of each unique project.
Beginning in New Zealand as a graphic artist and advertising art director, thru six years in NYC as a graphic designer, painter and illustrator, then in 1991 to Miami Beach where I began large scale art commissions and now since 2016 from my studio in Miami's Little Haiti or on location I combine my experience in both graphic and public art to create iconic work in a range of media and scale from painted and printed murals to carved and cast sculptural forms. For every project I undertake, materials are selected which ensure sustainability, longevity and minimal maintenance. I use strong graphic imagery and color to capture the viewer's attention.
Each project attests to my success at connecting with communities: the people I represent take ownership of the artwork - the greatest compliment is that they see themselves in it - at this point the art belongs to them.
As a visual storyteller I take pride in working closely with all stakeholders. They become collaborators in my process. I take responsibility to honor the goals of the commissioning agency. I strive to be accurate in my portrayals, and the final artwork must be bold and beautiful.